Additive, Collaborative and Connected: 11 Takeaways from Exponential Manufacturing 2017
What are the actionable implications for manufacturers and those who serve them?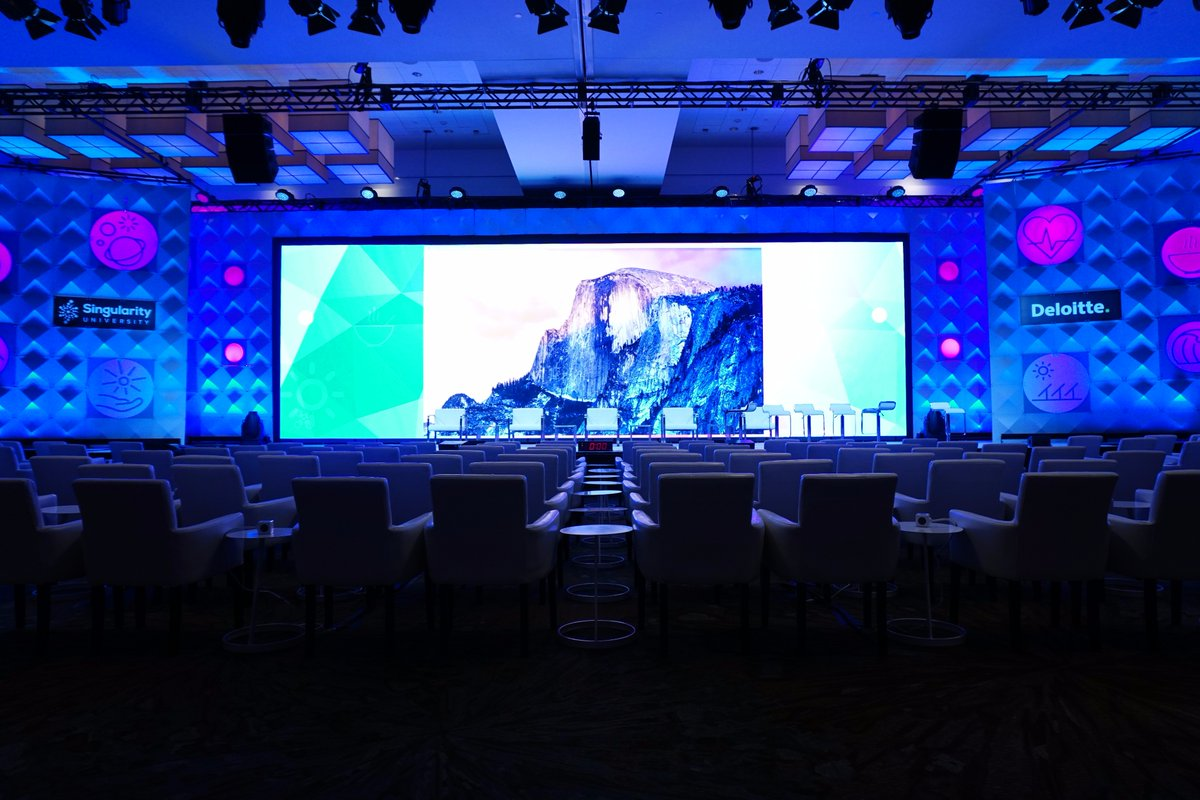 The Boston Seaport Innovation District, first of its kind in the United States, was a speculative investment — it tried to re-engineer the magic of Silicon Valley by fostering close collaboration between researchers, investors and entrepreneurs in one location. Seven years later, the bet stands: even industrial giant GE (and a software company in aspiration) is planning a relocation to the area.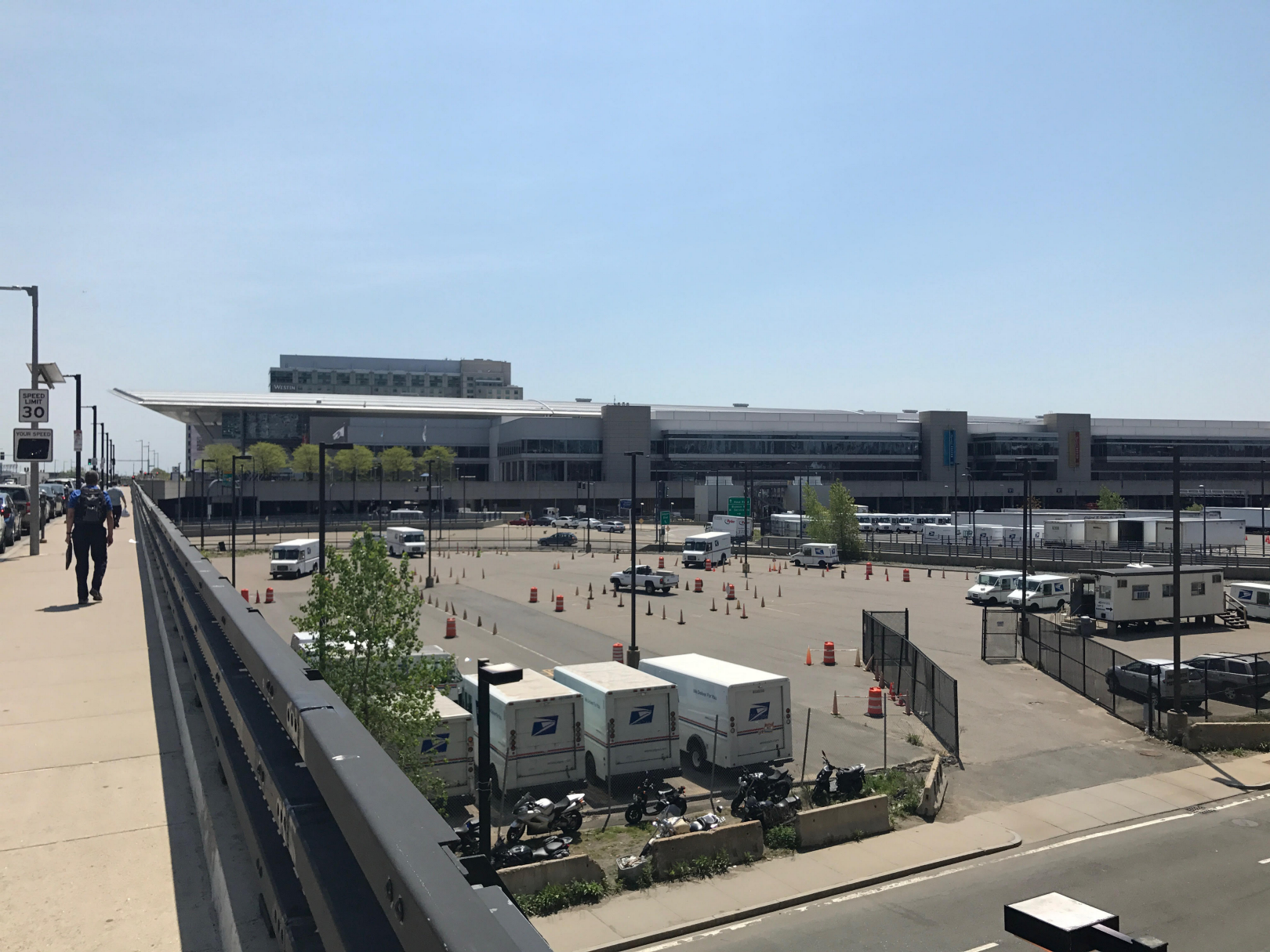 Two weeks ago, the District proved a fitting venue for nearly 500 diverse individuals participating in Singularity University's Exponential Manufacturing Summit. Exponential Manufacturing is one of 3 industry-dedicated Summits organized by Singularity University designed to describe and spur innovations relevant to manufacturers. Unlike a traditional classroom, it is not led by professors or mad scientists (with some exceptions), but indeed executives and entrepreneurs who have already brought "exponential technologies" to market. One example is Local Motors Jay Rogers, who 3d prints crowdsourced car designs in new "micro-factories" and is preparing to use the same technology on Mars.
For everyone I spoke to, the three days of the conference were extremely inspiring and motivating, but not without being overwhelming. Yes, hearing that your brain will be connected to the cloud in a couple of decades is unfathomable, but even the short-term is clouded in uncertainty. It became clear that every layer of the manufacturing value chain is at risk from technologies like additive manufacturing, (collaborative) robotics and predictive analytics, the required adjustments were described as unique for different businesses. Akin to the case method, famous with neighboring Harvard Business School, the complex task of incorporating innovation into business cannot be attributed to a set of decision points and is best told by example. Below, I've merely attempted to group these examples and identify 11 themes from the conference that should be at the top of any manufacturer's decision pipeline.
1. The Age of Abundance
Peter Diamandis, the co-founder of SU rolled on in a telepresence robot and described how technology makes scarce resources abundant (including ironically his own presence). He went on to summarize recent improvements in health care, energy and tool availability, the dematerialization of the supply chain and support networks for innovation. His message? We have enough resources today to take care of everyone. The challenge is how.
We have enough resources today to take care of everyone, the challenge is how.
Most illuminating was his answer to the question of what should the next generation study. He reiterated that technologies come and go, and now at a record speed of 2–3 years (see exponentials in the next point). Instead he recommends studying problem spaces, becoming experts in challenges, not solutions.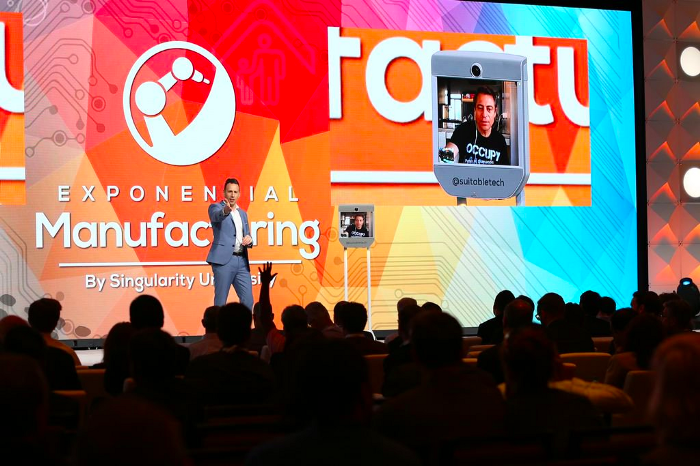 What now? This provided a great frame for the conference, allowing companies to realize their role as curators and bundlers of technology to serve the needs of their unique customer base.
2. Exponentials in Manufacturing
Will Weisman, Executive Director of Worldwide Summits at SU, introduced us to the concept of exponentials, the technologies that are improving at an exponential rate. We learned how by 2030, the cost of a computer as powerful as the human mind will be $1,000 and by 2050 for the same price we will access the equivalent capacity of all human minds combined.
By 2030, the cost of a computer as powerful as the human mind will be $1,000
From various speakers we learned about recent advances in robotics, biotech, AI, and many other areas. We saw that 3D printing is reaching maturity along the hype curve, that reinforcement learning has enabled computers to beat humans in one of the most complex board games invented and how new biotechnologies can now be developed in a garage.
We learned about how these advances follow a predictable exponential pattern that is difficult to comprehend to our "linear" brains. Therefore, we are constantly underestimating the growth potential of technology going forward.
And if we do play the story forward, Amazon envisions printing products in a truck and delivering them by drone, robotic skins could be 3D printed, sustainable energy will become the cheapest source of energy and sequencing the human genome by 2018 will be possible at the cost of a pizza.
If you're wondering why, the idea of exponentials originates from futurist and SU Founder, Ray Kurzweil. He claims that any process evolving through trial-and-error evolves exponentially and technology is no exception. His comprehensive empirical analysis has validated exponential improvements in several diverse technologies: computing, DNA sequencing, communication, etc. In the conference, he singled out "brain extenders" like smartphones that expand our intelligence and how we will go on to connect the human neocortex to the cloud
What now? Any organization can incorporate exponential forecasting relevant to their business in their planning process. Think about the technologies making up your product or supply chain, forecast their evolution and track resulting disruptions to your market. Don't just rely on intuition to understand what's possible.
3. Changing Roles of Global Manufacturers
Deborah Wince-Smith, President & CEO of U.S. Council on Competitiveness gave the slide-free Washington perspective on global manufacturing. America is poised to reclaim the top-spot in manufacturing competitiveness from China by the end of the decade. China's labour costs have increased five-fold since 2005, and instead the "Mighty Five" (Malaysia, India, Thailand, Indonesia and Vietnam) could replace China as low-cost manufacturers. She also cited US regulatory and cultural advantages like entrepreneurial DNA, rule of Law and protection of IP.
She did mention specific challenges: China's advances in all forms of supercomputing (including quantum and neuromorphic architectures), inefficiencies in health-care, housing and education, the risk-aversiveness of our current generation in light of financial difficulty and the mounting cyber-security threat.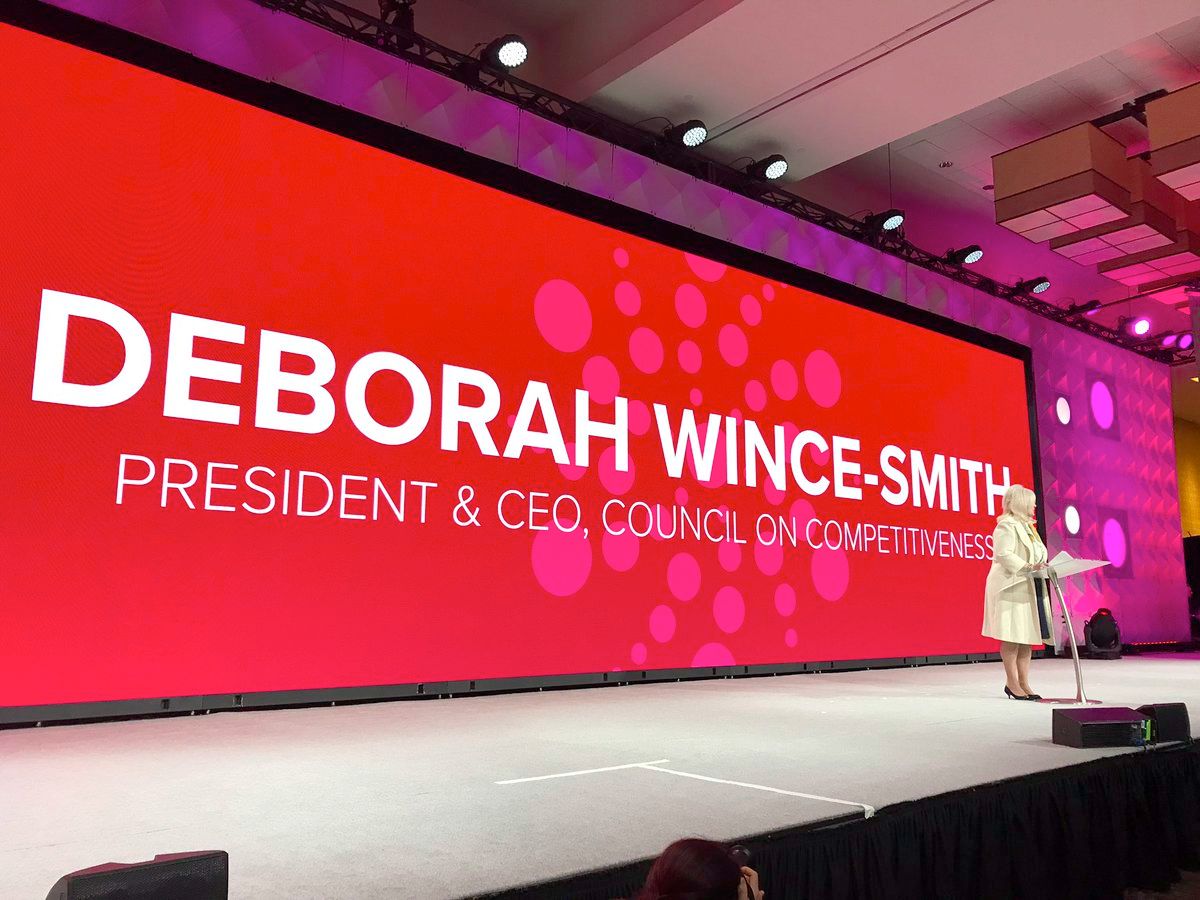 Turning to local Boston, John Barros, Chief of Economic Development for the City, reaffirmed his intention to "update codes and get out of your way". Boston plans to lead in friendly regulation by supporting initiatives like driverless car testing on real streets.
What now? We need to respect the changing roles of manufacturers in the world and how manufacturing remains a strategic playing field for governments. At least in America, the government wants to signal stability and a positive outlook for manufacturers while cities continue to support innovation. The hope is that companies respond by taking a longer-term perspective and taking greater risks.
4. The New Makers
More people than ever today can design and build physical things. Jay Rogers, CEO of Local Motors wowed the audience by introducing the concept of micro factories that support advanced small volume manufacturing. But the biggest eye-opener was how he crowd-sourced collaborative designs leading to everything from Letty's Rally Fighter in the latest Fast and Furious installation to a voice-controlled concept car for urban commuting (first ever to lack a seat for driving).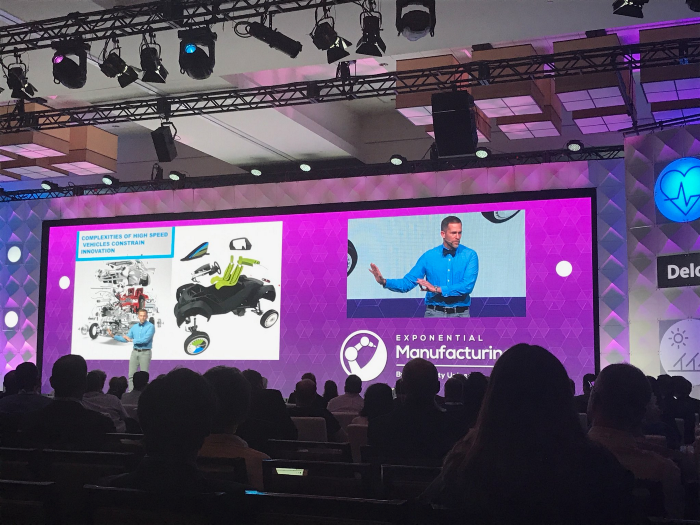 Moreover, Leanne Gluck, Deputy Director at America Makes, explained how additive manufacturing (3D printing) is really about redefining what parts can be built. For better intuition on the future of design, a video was shown which is no longer available on YouTube.
Lastly, Bill McInnis, VP of Reebok Future explained that every footwear manufacturer is indeed looking for "that next manufacturing method". In an industry where design matters, to make something different, you have to build differently.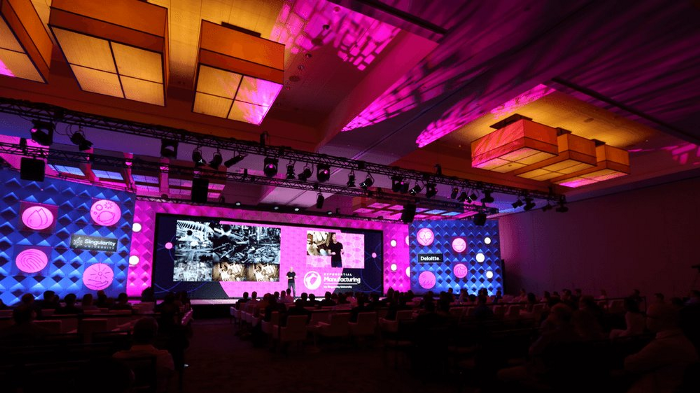 What now? There is every reason to be optimistic about the supply of industrial design talent, but manufacturers have to make the most of that talent. Tools for rapid prototyping, experimentation and co-creation are there to stay ahead of customer expectations.
5. First Self-Disruptors
Successful innovation engines fueled by partnerships are spreading beyond software companies. Amanda Denton Manna, Head of Narrative and Partnerships at Lowe's Innovation Labs, talked about how Lowe's focus on customer behavior has helped them bring new innovations to their business.
They created an AR application that helped customers understand the size & fit of potential products from their homes, a visual positioning service, an assistant robot, Lowe's Holoroom for VR experiments and even an Iron Man-style exosuit to support lifting of heavy objects.
There is more, Karen Kerr, Sr. Managing Director of GE Ventures, talked about how GE uses their venture portfolio to rapidly test and implement innovations in their own plants, creating immediate synergies and eyeing companies for future acquisition.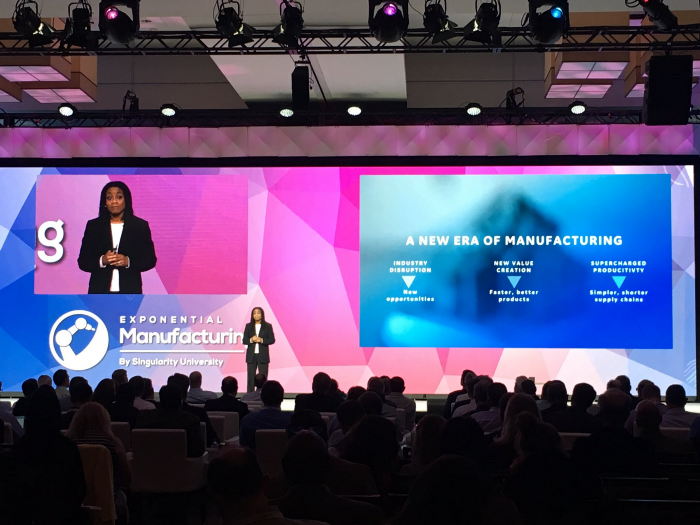 What now? Put simply, if you're not piloting new products to address customer pain points using technology, someone in your industry already is. Fast innovation is becoming a competitive advantage in every market.
Fast innovation is becoming a competitive advantage in every market.
6. The Truth About Data.
Howard Heppelmann, Divisional Vice President and General Manager from PTC, started the section off with three big use cases for data-driven decision making: Predictive Maintenance, Predictive Quality and Predictive Performance.
Jane Zavalishina, CEO of Yandex Data Factory added a few: reducing material needs, optimising production routes and measuring the unmeasurable, but immediately cautioned against visualizing the factory of the future. The reality is that some companies don't have a billion to invest in data, so she recommended looking for established, repetitive processes and proving value quickly (in 3–6 months).
Paul Casto, Vice President at GE Digital, further explained that the return on initial proof of concepts should be on the order of 10–15x, given the extra complexity and risk.
What now? Initial use case selection and realization is critical and could either underscore a large successful analytics transformation program or can result in frictional skepticism. IoT adoption thrives with VC-style financing models.
7. Friendly IoT Tech
The natural question following insight about data is what platform would need to be used? Several speakers mentioned that IoT platform technologies are highly compatible and transient. The winners are not yet clear and it is best to start somewhere.
Paul Casto of GE went on to describe the GE Predix platform. Its advantages include proprietary technology across the whole stack and a rich and complete set of acquisitions of complementary services. Quoting asset performance management as an example, potential benefits were described as 3–40% incident reduction, 2–6% increased availability and 10–40% reduction in Reactive Maintenance among others.
What now? Focus on compatibility, adaptability and immediate needs in platform choice. The valuable part is the solution use case and its ecosystem of data and processes, not the platform that powers it.
8. Automation as Help.
Rodney Brooks, Founder, Chairman and CTO of CTO of Rethink Robotics, demoed a collaborative robot — a soft, safe and programmable robot that supports humans in repetitive tasks. The hope is that automation does not mean replacement of human labor, but instead indicates potential for deeper human and computer collaboration.
Karen Leavitt, CMO at Locus Robotics, explained how warehouse robots actually reduce significant physical strain on workers by helping to transform goods and are a while away from being fully autonomous.
Collaboration will change even for knowledge workers. Steve Shepley, a Principal at Deloitte, described two ways they will be affected: process automation (automating repetitive, manual, structured and logical tasks) and cognitive automation (automating repetitive, manual, situational & decision-oriented tasks).
What now? While the consensus seems to be that automation will not necessarily have a net positive impact on jobs directly, it is possible that unless we fill the mounting skill gap, this will result in significant job losses. It is the role of the employer to develop new skills in employees to ensure they are fit for jobs of the future.
9. Skunkworks is the Only Way
When it comes to actually transforming the organization, it seems like politics is the core question to tackle. John Hagel, Co-Chairman for Deloitte's Centre for the Edge talked about how in his experience, change agents often run into the "anti-bodies" of the organization, which can prevent whole-company transformations. He said the best way to solve that is taking experiments in isolation ("at the edge") and winning through growth, not alignment.
What now? If you are in a very conservative company without deep top-down support or foresight let your ideas grow into results before going head-to-head with the rest of the organization.
Let your ideas grow into results before going head-to-head with the rest of the organization.
10. The Risk of Being Irresponsible
Corporate Social Responsibility is taken very seriously by some and seen as strategic in the long horizon. Trisa Tompson, Chief Responsibility Officer at Dell, talked about her inspiring journey from Law to corporate responsibility. She learned that 9 out of 10 consumers expect companies to do more than make profits and realized that mission at Dell. Now Dell has helped kickstart the ocean plastic value chain by using ocean plastic in manufacturing and its employees have contributed 5M hours of community service with 70% participation.
What now? Instead of just minimizing waste, companies should focus on offsetting a negative impact with a 10x larger positive impact. She warned that Corporate Social Responsibility is difficult, also requiring disruptive thinking, community collaboration, new partnerships and new business models; but early movement is equally crucial.
11. The Bigger Journey.
Rob Nail, CEO of SU, took time to explain how this conference is part of bigger personal and company transformation to become an "exponential organization."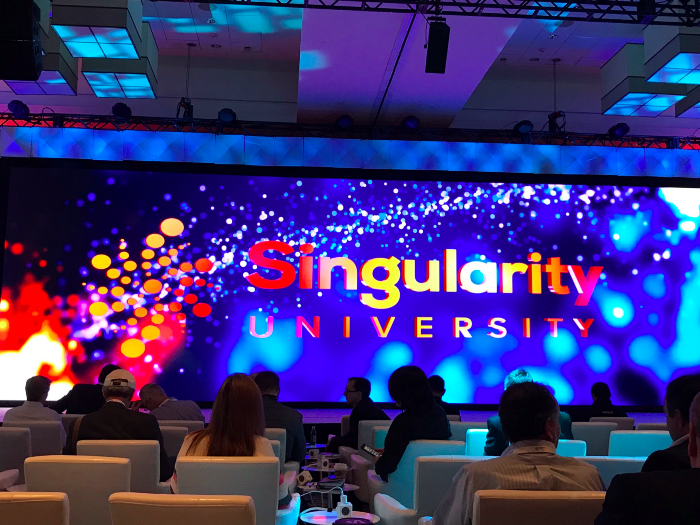 He advised proceeding with caution at the risk of not sounding insane and told the whirlwind story of Harman's journey from a car audio manufacturer to a connected car company and how that led to it's ultimate acquisition by Samsung.
What now? Transformation needs support and timing in addition to the right ideas. Start asking yourself "how do I stay on top of this?", "what should I be reading?", "who should I be working with?".
After all, the goal is not simply to understand the disruptions — it is to come up with them in the first place.
Disclaimer
Please note that this is not a comprehensive summary of the conference. I am only summarizing from my chosen panels and focusing on messages that were particularly relevant to my work — every single speaker and panelist was fantastic and any omissions are accidental rather than intentional.
Appendix
For more on Singularity University:
For more on Exponentials: